Faculty Spotlight: Rich Ross turbocharges the grading process with Gradescope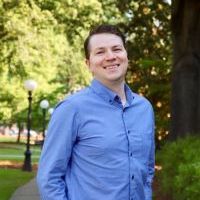 Rich Ross is Assistant Professor of Statistics at UVA, and is teaching STAT 2120: Introduction to Statistical Analysis this semester. With 572 students in the course, grading assignments and exams can be challenging and time-consuming. Gradescope's ability to build and apply custom, adaptable rubrics during the grading process has allowed him to grade quickly and accurately and focus more of his attention on interacting with his students.
We asked Rich to share some of his experiences with the tool and advice for those interested in exploring its potential.
Q. HOW ARE YOU USING GRADESCOPE IN YOUR COURSE?
A. The class that I teach right now, STAT 2120, we have an asynchronous lecture component where I pre-record videos and students are able to watch that content and re-watch it, which has been really valuable, and then we have a synchronous lab portion where there's a lot of really active learning and students work and submit work in groups. So I have lots of individual work and lots of group work, and trying to figure out how to manage assessing all of that work or evaluating that work is a difficult thing, but having tools like Gradescope has been super helpful in thinking about how do we do this at scale.
You actually never have to take your hands off the keyboard because you can just select the grade items that apply to the student and then press a button to go to the next submission for that same question, and so you can get very, very quick and accurate at grading work and especially in comparison to grading paper submissions.
Q. HOW IS THE TOOL SUPPORTING YOUR ONLINE TEACHING?
A. When we were teaching in person in the spring … the first exam I gave in person, and so students wrote on paper and turned in the paper. Gradescope has a really cool way of managing those submissions. Basically, you can just scan all the student submissions in, and it does a lot of things that are pretty automatic. It can detect patterns of student responses. It reads your text and it does oftentimes a very good job, and so you can actually save a lot of time in grading that way as well.
But for the second midterm and the final, we were online. We had to figure out, how do we conduct an exam in an online format? And I still don't think that we've perfected it, but Gradescope offers pretty smooth ways to run, evaluate, and have students take an online assessment that even can be somewhat high stakes. You can have some questions that are multiple choice or check all of the boxes that apply. You can have questions where students just type out their response. You can also have questions where students upload one or more files. There's a lot of flexibility in how students get to interact as they're taking an exam and I think that's super valuable.
Q. WHAT FEATURES DO YOU FIND MOST USEFUL ABOUT GRADESCOPE?
A. With Gradescope, you can just change the point value for any item, and it applies that change to all submissions. The rubrics are highly customizable, and you can always change them even after you've started grading.
It also has a built-in regrade request system. When I publish grades, if a student says, "I think that maybe there was an error," and in a class with 550 students, we're bound to make errors once in a while. We hope that they're minimal, but it sometimes happens. We're just very upfront and tell students, if you think that we maybe made an error, submit a regrade request, and you can handle all of that directly in Gradescope's website. You don't have to have a bunch of emails going back and forth.
The only other thing that's been super useful is that it's very clear to students with disability accommodations. If they get extra time on an assignment, that's built in … Is this revolutionary? No. Lots of tools can do this, but it's an important feature that helps to accommodate needs.
Q. WHAT FEEDBACK HAVE YOU RECEIVED FROM STUDENTS ABOUT GRADESCOPE?
A. The feedback overall has been quite positive. I think that students would generally agree with me based on what I've heard as far as it's nice to have that one stop where you can go and you can see, here are all the assignments, here's when they're due.
And I think students appreciate being able to submit a regrade request maybe partly because they realize that as a course staff, we're admitting that we can make mistakes sometimes and that we're happy to have those conversations. I think that actually builds a lot of trust between the instructor and the students.
Q. WHAT TIPS OR SUGGESTIONS DO YOU HAVE FOR INSTRUCTORS USING GRADESCOPE FOR THE FIRST TIME?
A. Although it may take a little bit of time to get used to, it will shock you how much time you will save. The thing that I've found as I teach that maybe shouldn't have surprised me, but does surprise me, is that lots of the little stuff takes up a lot of your time.
I think that Gradescope has implemented several mechanisms that meaningfully reduce the amount of time you have to spend … grading and let you do more of one of my favorite things as a teacher, which is interacting directly with my students, talking to them about content questions, talking to them about potential career options. I feel like I have a lot more flexibility to do what I hope to do as a professor and spend a little bit less time doing some of the things that we just have to do.
I really think that to some extent one of the reasons that Gradescope isn't used more is that people just don't realize how powerful it is. I think that once you take a tour, you'll come back to visit again.
---
Gradescope can be added to course sites in Collab, in Blackboard and Brightspace at the McIntire School of Commerce, and in Canvas at the School of Education and Human Development. It can also be accessed directly via NetBadge by faculty and students in all schools and departments. Contact the Learning Tech team or Gradescope Support if you have questions about the tool or need help getting started.
If you're interested in sharing your experience with Gradescope or another tool in the Learning Tech catalog with your colleagues, we'd love to hear from you! Email Kristin Sloane at ks8yx@virginia.edu.